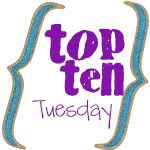 There always seems to be such a huge debate, at least online, between stay at home moms and working moms. I've walked both sides of that line, and I know first-hand that there are so many misconceptions about moms in general. I've broken down my top 10 list this week into two lists:
Five Stay at Home Myths
1. SAHM's don't "work."
They may not work outside the home, but if you've ever chased an active toddler or bounced a fussy baby all day, with no help, while caring for older kids and attempting to prepare meals and clean house, you've never really worked. SAHM's don't sit around eating bon bons all day - they work all day long, every day, with no vacation days. I love the quote I read in the book
Don't Make Me Come Up There
- the author, Kristen Welch, said that she got tired of people asking, "Oh, you don't work?" so she started telling them, "I'm a mom - what's your superpower?"
2. SAHM's aren't well educated.
I have several friends with college degrees who decided to stay home with their children or work only part time while their children were small. They know that the financial sacrifice is worth it - you will always have time to build your career, but you won't always have those early years with your kids.
3. Housekeeping is easy for SAHM's because they're home all day.
Yes, they are at home...with small messmakers running around the house all day, making housekeeping dramatically harder. Then get old enough to "help" - and it gets even crazier.
4. Friendships are easier for SAHM's because they have more time.
When your schedule revolves around small children, it's hard to find time for anything else. Other SAHM's are busy with their families, while working mom friends have a totally different schedule than yours. One of the hardest parts of being a SAHM is the lonlieness that you experience all too often.
5. SAHM's have lots of free time.
Babies and small kids have a way of completely absorbing every waking moment of your time. You go and go all day, until the kids are finally tucked safe and snug into bed. Then you collapse into a comatose state...at least until the baby gets up for a midnight feeding or the preschooler wakes from a nightmare. Being a full-time mom is exhausting, and it's hard to find time for yourself.
Five Working Mom Myths
1. Working moms choose to work.
I heard that for years, and was even guilty of feeling that way myself - until I had to go back to work. Every working mom I know works because she
has
to, not because she
wants
to. Many of my friends are the co-breadwinner or the primary breadwinner in their family. Their husbands work, too - the wife just happens to be in a field that earns more money or is in higher demand. Or in some cases, she is a single mom, and is therefore the sole source of income for her children.
2. Working moms could cut back their standard of living and stay home.
Again, most moms work because they
have
to. They struggle to stay within their budget, just like SAHM's. They clip coupons, shop from clearance racks, and plan their shopping trips carefully. They are working for living expenses, not extras and "toys."
3. Working moms don't put their family first.
If staying home means your family going under financially, then going to work
is
putting your family first. As a working mom, I put priority on spending time with my family on my days off and in the evenings. Family mealtimes are important, and I spend every moment I can with my husband and kids. I even chose a career that allows a lot of flexibility so that I can be with my family more.
4. Housekeeping is easier for working moms because no one is home all day.
Same amount of chores - drastically less time to do them. Enough said.
5. Working moms have lots of support.
Do a Google search for Christian working mom. You'll find
a great website by Kimberly Chastain
on the first two links...on the third, you'll find an article stating that a woman's only roles in life should be to "get married, have children, guide the house, and live a perfect testimony so not once can the adversary (Satan) say anything reproachful about you." There is so little support out there for Christian moms who work outside the home. Critics are everywhere...support isn't.