Today I'm starting a new challenge with Katie Orr at
Do Not Depart
...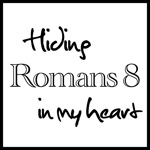 Scripture memory was, for a long time, been something I knew I
should
do, but somehow never got around to. Earlier this year, I took the plunge and decided to start it after reading a great post on
A Holy Experience
, one of my favorite blogs.
Memorizing God's Word is life changing. When you're memorizing scripture, you're truly meditating on it, feeding your soul with it day after day. I don't know why it took me so long to grasp the importance of it, but now it's a vital part of my quiet time. I hope you'll join us - you won't regret it!