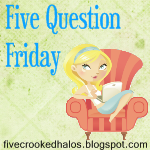 1. What words do you use on your blog/online that you don't use in real life?
I really don't think there are any...I blog pretty much like I talk, complete with "y'all" thrown in throughout. :P
2. Do you still write checks?
Sometimes. We're Dave Ramsey fans (as I wrote about a little in a post earlier this week -
Weird is Good
) so we usually do cash, sometimes debit, rarely checks.
3. Who was your favorite President and why?
Reagan (I grew up watching him as President - his love for America and his respect for the office of President amazed me) or Teddy Roosevelt (who was just a fascinating guy)
4. Are you a yeller?
I have two boys...need I say more? lol I try not to, but I do sometimes.
5. Have you ever dumpster dived?
I can't remember a time when I did, but I'm sure I have, and I know we have stopped in the middle of the road many times when my husband saw tools that had fallen off of someone's truck!