I'm so excited to be joining in with my first writing assignment!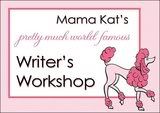 I have to admit, it was hard to pick just one time when I wish I'd done things differently! There have been lots of times when I could have handled things differently or made better decisions.
One thing that I would love to change is college. I went to college for two years after high school, but I really had no clue what I wanted to do with my life. I started out as an elementary education major, but realized within weeks that I was not cut out to be a teacher. I changed my major to psychology next, planning to do child psychology…until a friend made me realize that if I was a child psychologist, I would end up needing to see a psychologist myself. After that, I settled on being an English major. Everyone would ask me, "So you want to teach English?" I was quick to reply, "No." They would look at me and ask, "So what do you want to do?" I responded with all of my 18 year old wisdom, "I don't know…but I'm an English major."
Just after finishing my sophomore year, my then boyfriend proposed…and we've been married almost 10 years now. I quit college when we started planning our wedding, and I don't regret it. I didn't know what I wanted to do as far as my career went, so there really was no point in continuing at the time.
Fast forward to the present day. I am once again a college student, this time taking perquisites to enter the dental hygiene program. I wish - oh, how I wish - that I had considered a program like this straight out of high school. Within three years of graduating high school, I could have started a great job with a great income. Our early married years would have been so much different! I wish I had spent more time researching stable careers with good incomes rather than just trying to find something I enjoyed studying. I wish my family had talked to me about two year degrees instead of pushing for a four year degree or nothing.
Although I wish I had done things differently then, I'm glad on a career track now. I'm excited about launching a new career…I just wish it hadn't taken me so long to figure out what I want to be when I grow up!