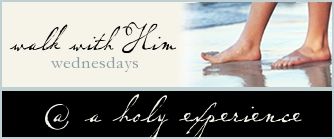 I have a lot of new habits I want to create in the new year. I have a lot of goals I want to accomplish. One thing I have learned about creating habits is that it takes perseverance.
One of my goals is to spend daily quiet time in Bible study, prayer, Scripture memory, and stillness, listening to God. I've done well with those goals before, but I tend to be sporadic, doing well for a while, then letting it drop off. This year, I want to make it a habit that remains for life.
I've learned from other habits that I've created, the best way to make a habit is to just be persistent. If you miss a day, start back the next day. If you fall behind, do extra and catch up. Don't get discouraged and quit. A habit is created when something becomes so much a part of your day, your life, that your day doesn't feel right without it.
I'm slowly creating my habits. I carry my Bible memory book (which was inspired by
A Holy Experience
) in my DayPlanner, so I can go over it every day. I'm working on reading through the Bible in a year, and although I've already fallen a bit behind, I'm going to catch up today. I'm working on finishing my prayer journal. I'm not giving up. I'm going to be persistent until my daily quiet time is something that I can't start my day without. When my life is over, I want to leave my children a worn, marked up Bible; dog-eared books of Scriptures memorized; and a marked up prayer journal that was used daily. I want to leave my children a legacy of faith lived out.