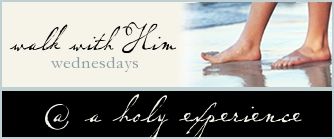 I'm struggling with forming my new habits. I blogged a few days ago about my
goals for the year
and about
making new habits
. Making a new habit is not an easy task. I've set aside daily time to work toward my goals. I've printed off a
100 days calendar from A Holy Experience
to help me. I know what I want to do...but it doesn't make it easy.
I think the hardest part of making a new habit is breaking the old habit. It takes discipline to wake up in the morning and focus on my Bible reading and Scripture memory. There are days when, honestly, I want to curl up on the couch and watch TV while I drink my coffee, or when my to-do list is demanding my attention right away. I don't always have my quiet time first thing...some days I have it later in the day...or not at all.
But, as I wrote last week, it takes persistence...so I'm persisting. If I miss a day, I forge ahead the next day. I'm keeping my Scripture memory book in my DayPlanner - which goes everywhere with me - so I can pull it out whenever I have free time to review and study. Starting today, I'm marking my 100 days calendar. I can do this. I will do this because the new habits will be well worth it.