I am so glad it's fall! Even down here in southeast Texas, where we don't have a "real" fall, the weather is getting much nicer and it's beginning to feel like fall...or as close to it as we get!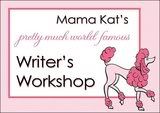 Mama Kat's writing assignments sparked this list, and I decided that it would be perfect for Thankful Thursday as well...
10 Things I Love About Fall!
1. It's my favorite season of the year! I get so excited when I see fall approaching.
2. The cooler weather...I love summer and hot weather, but by October, I'm ready for a change.
3. The countdown to Christmas begins - I love Christmas!
4. The leaves changing colors - actually, we don't get a lot of that here. That's one thing I miss about Arkansas...
5. It's pefect coffee weather!
6. The cool, rainy fall days...perfect for curling up with a good book.
7. Thanksgiving - my favorite holiday! Christmas is great, but it's so busy. Thanksgiving is just a fun, relaxed time to be with family, eating, shopping, and watching movies.
8. My new wardrobe - I love pulling out my long sleeve shirts, my leather jacket, cute scarves, etc.
9. Great food - time for chili, soup, and other goodies.
10. The wonderful smells - I love walking into stores and smelling the pumpkin spice and apple cinnamon candles...